Actual Version: MobileDriveSync Version 3.09.98
Release date: 2010-04-02
Frequently Asked Questions
Question: MobileDriveSync is compatible with all removable USB drives ?
Answer: Yes. In fact our application is compatible with all Removable drives including ZIP, JAZZ, USB flash's. The application will search for a specific drives if you use with a ZIP drive you will sync only with one disk not with all disks.
Question: MobileDriveSync does not show my external HDD device, how can i fix it ?
Answer: This problem was reported by a user and was solved on the version 1.7 build 65, you should download the latest version and install it, versions 1.7 or higher will show a check box "Map all drives" you should check it.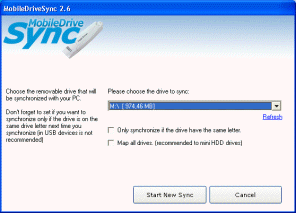 Thanks to: A. Rodriquez
E-mail: support@capturix.com