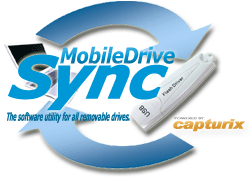 Just go to www.mobiledrivesync.com and download our software. This is a shareware you have 30 days to try before you buy.

Run mds.exe

Follow the instructions of the setup wizard.

Now you have to establish a sync relationship between the removable drive and the local PC. Just run the MobileDriveSync from the Start Menu.

Select Map all drives option to show all HDD drives on the system, this is recommended for mini and portable HDD drives. (available on version 1.7 or higher)

Choose the drive you want to use to synchronization, you can choose to only use the synchronization if the drive have the same letter assigned since this setup. (NOT RECOMMENDED FOR USB DEVICE).

Setup the method of resolving conflicts (Keep the latest file on both is recommended).

Now just add files to synchronize. Using the right button menu on Windows Explorer or Add File to Sync on the software.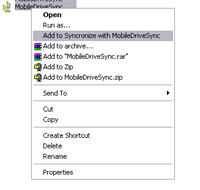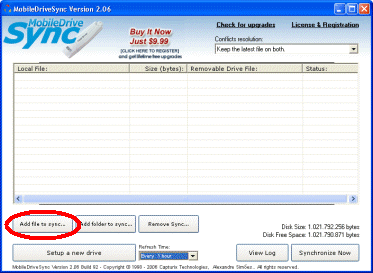 Choose the destination of the file on the removable drive: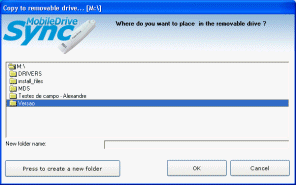 You can add entire folders by pressing the Add folder to sync button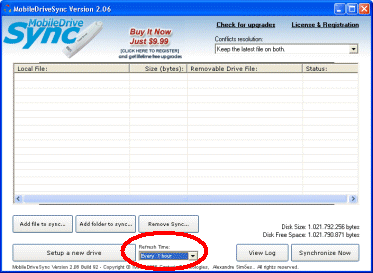 By default this software will synchronize files every 10 seconds.But you can do it manually by pressing Synchronize Now.

If you want to change the time interval between synchronizations you can select Refresh Time selector.
To remove a file from the synchronization list you can press in Remove Sync button and then you will be prompt to remove the file from the removable drive if you want to delete the file press yes.

After you purchase the license of Mobile Drive Sync software you will be given a license key to enter on the software, just press on License & Registration and enter the key after you restart the application you will unlock the application.

After that you will have access to all upgrades available for this product for ever !

© MobileDriveSync.com, a division of Capturix Software Technologies, All rights reserved.